Robert Edward Lee Day
19 January in the Commonwealth of Kentucky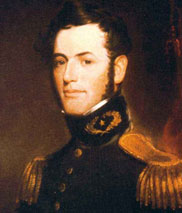 Lieutenant Lee, US Army, July 1, 1829, West Point Graduate
19 January 1807 -- Robert Edward Lee was born at Stratford Hall, a plantation in Westmoreland County along the Northern Neck of Virginia on 19 January 1807. The property had been acquired by his grandfather Governor (Colonel) Thomas Lee in 1717, and the great house was built in the 1730s.
https://en.wikipedia.org/wiki/Stratford_Hall_(plantation)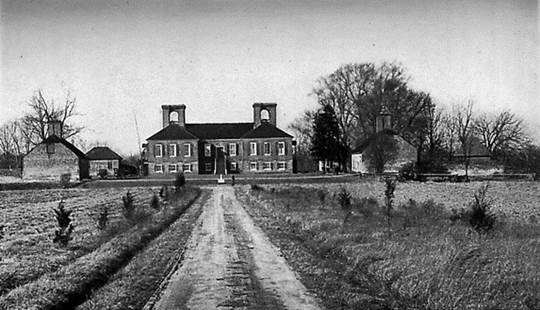 His parents: Governor (General) Henry "Light Horse Harry" Lee III and Ann Hill Carter. His ancestry in America goes back to Richard Lee, Henry Corbin, and Robert "King" Carter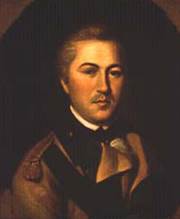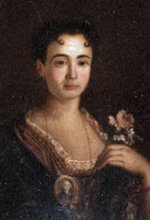 General & Gov. Henry Lee Ann Hill Carter
1810 -- Henry made some bad investments and landed in debtor's prison. There he wrote the account of the Revolutionary War in the South. Ann moved the family to a home Alexandria Virginia at 607 Oronoco Street, where Robert remained until 1825 when he departed for West Point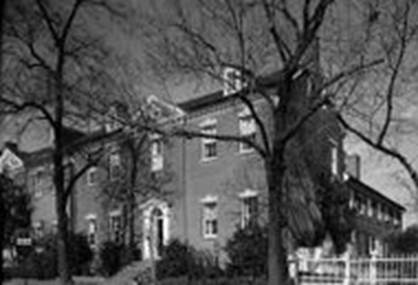 Lee boyhood home, Alexandria
June 1829 -- Lee graduates second in his class from West Point. While at the military academy, Lee is one of six students in his graduating class to never receive a demerit. His classmates note his drive for perfection and focused, secluded personality with the nickname "Marble Model." As one of the top cadets, Lee is able to choose the branch of service for his first assignment, and elects to work for the Army's Engineer Corps. He is assigned to Cockspur Island, Georgia.
Spring 1830 -- Lee begins courting Mary Anna Custis, Martha Washington's great-granddaughter and a member of the Virginia aristocracy. Although Lee was part of the Southern gentry, the reputation of Lee's father was enough for her father to express initial reservations about the courtship. After finally winning Mr. Custis's approval, the couple married on June 30, 1831 in the parlor in Arlington House, which she inherited her father in 1857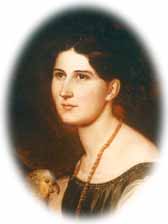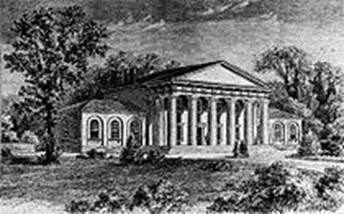 https://www.nps.gov/arho/learn/historyculture/mary-lee.htm
1830s -- Lee earns a reputation as a gifted civil engineer on assignments in Virginia, Michigan, Missouri and New York. In September of 1836, he is promoted to First Lieutenant.
Summer 1838 -- Lee is promoted to captain of engineers, and moves on to his greatest engineering challenge, "moving" the Mississippi River. The Mississippi had been drifting away from the St. Louis shore, and Lee was able to temporarily channel the river back toward the city, allowing St. Louis to remain a river port. During his extended time away from Virginia, Lee continually writes letters to Mary and the children. Parenting from afar, he instructs Mary how to raise the children and remains engaged in their growth.
August 1846 -- As the Mexican-American War develops, Lee is called upon to lend his engineering skills to General Winfield Scott's force. Lee assesses routes for attack and completes challenging reconnaissance missions in Cerro Gordo. He wins General Scott's trust during the battle of Vera Cruz, and Scott comes to rely upon Lee's mathematical skills and innovative battle strategy.
1852-1855 -- Lee returns to West Point as the Academy's superintendent. There he trains many of the men who would fight under him, and against him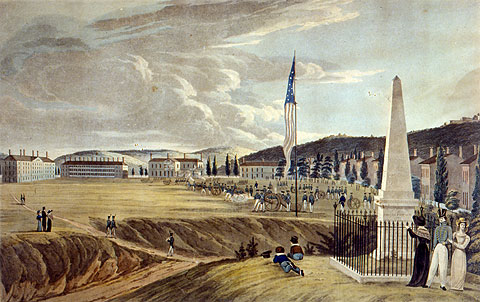 West Point 1828
July 17, 1853 -At the age of 46, Lee experiences a spiritual awakening and is confirmed at Christ Church, Alexandria. His letters home become more introspective and melancholy and, for the first time, he turns a critical eye toward his accomplishments. So begins Lee's walk with Christ, and as a model Christian gentleman.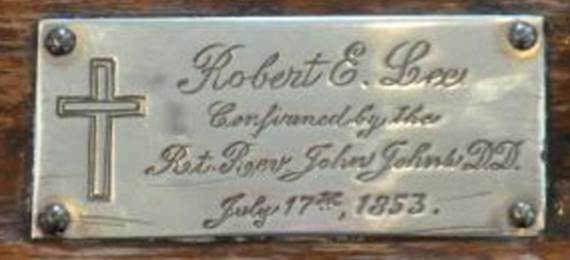 Pew Plaque Christ's Church
Spring 1855 -- Lee leaves West Point and the Engineer Corps when Secretary of War Jefferson Davis appoints him to the role of Lieutenant Colonel of the newly formed 2nd US Cavalry. Lee moves to west Texas where the regiment is stationed.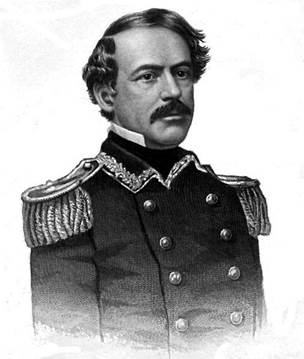 Colonel Lee, US Army
October 1857 -- Mary's father, George Washington Park Curtis, dies, leaving Robert E. Lee the executor of his estate. Lee returns to Virginia to temporarily manage the family estate, and finds his father-in-law's finances in terrible shape: the plantations willed to his sons are barely functioning and heavily mortgaged, there is no cash to pay his daughters their promised inheritances…
October 1859 -- Lee is sent to Harper's Ferry to suppress the John Brown raid. He remains at Harper's Ferry through Brown's arrest, trial, and hanging.
April 17, 1861 -- Virginia secedes from the Union, in response to Lincoln's call for the states to supply troops to invade the succeeding states. The next day, Lee is called to a meeting with Francis Blair, a close associate of Abraham Lincoln. Blair offers Lee command of the Union Army, but Lee declines the offer, unwilling to fight against his home state of Virginia. Lee next seeks the advice of his former commander and Director of the War Department, Winfield Scott. Lee explains his divided loyalties to Scott, but his superior refuses to allow him to "sit out" the war.
April 20, 1861 -- After days of deliberation, Lee resigns from the United States Army. He states in a letter to his Union-supporting sister, Anne Marshall, that "with all of my devotion to the Union and the feeling of loyalty and duty of an American citizens, I have not been able to make up my mind to raise my hand against my relatives, my children, my home." Just two days later, Lee is assigned by the governor of Virginia to command the Virginia forces for the Confederate Army.
March 1862 – After Lee oversaw forces in a Confederate defeat at Cheat Mountain; he is relieved and returns to Richmond. Jefferson Davis, Confederate President and fellow West Point graduate, appoints Lee to a minor position as his personal military adviser.
May 31, 1862 -- General Joseph E. Johnson is shot off his horse and severely injured in the Battle of the Seven Pines. Robert E. Lee is chosen to replace Johnson and take control of the South's biggest field army, the Army of Northern Virginia.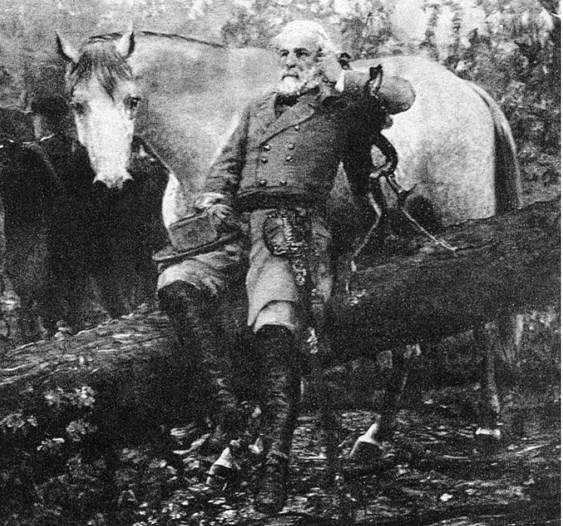 Lee and his horse Traveller at Rest on a march
http://www.historynet.com/robert-e-lees-horse-traveller.htm
August 8, 1863 – After many successes, Lee takes the Army into the North to attempt to defeat the Union Army on Northern soil, in order to compel the North to abandon its invasion of the Confederacy. After bringing the army back from an unsuccessful campaign in Pennsylvania, Lee submits his letter of resignation to Jefferson Davis, which Davis promptly refuses. There is no one who could replace Lee.
April 9, 1865 – After a most costly overland battle through Virginia, and a standoff at Petersburg, Lee is forced to try to move the Army westward. His attempt is foiled by the superior union forces. In an official ceremony at the courthouse in Appomattox, Virginia, Lee surrenders to General Grant. He returns to Richmond which is now under Union control.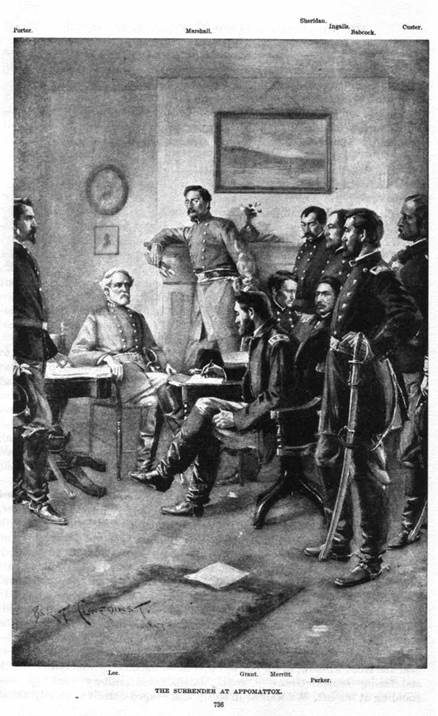 Fall 1865 -- The Lee family moves to Lexington, Virginia, where Lee assumes the role of President of Washington College. Lee overhauls the curriculum, requires weekly progress reports for all of the students, and encourages the females in his family to attend church services in the hopes that "if the ladies would patronize it that the students would be more interested in going." The college has since changed its name to Washington and Lee University.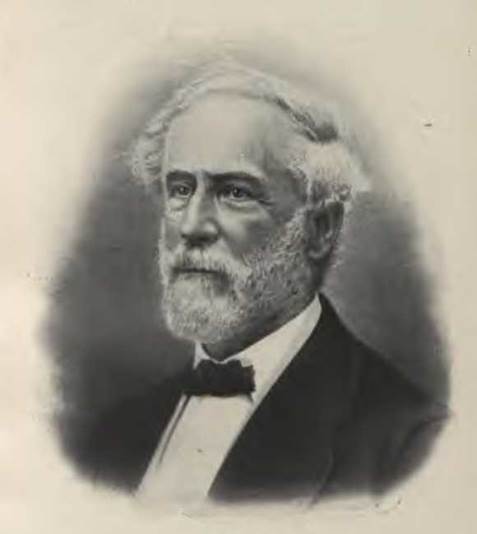 1867 – 1868 --The college constructs a chapel and Lee's request. He has the college build a chapel for the students and has weekday services for the faculty and student body which local pastors from Lexington officiate. The Chapel is later named "Lee Chapel"
https://www.wlu.edu/lee-chapel-and-museum/about-the-chapel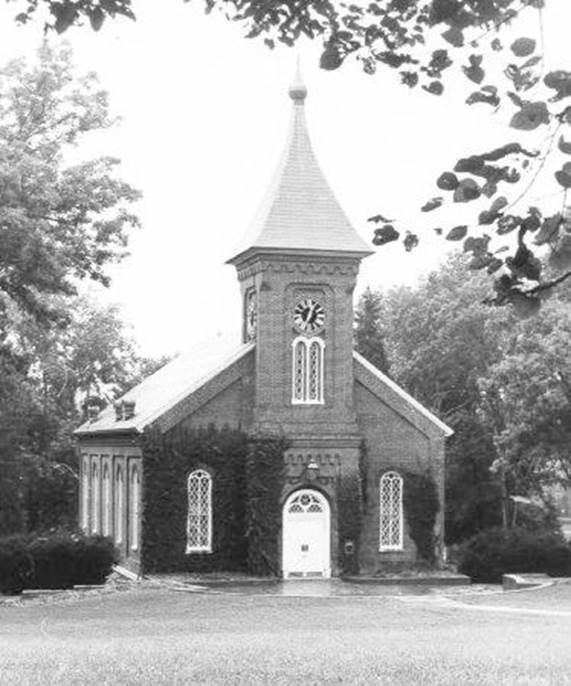 28 September 1870 – After a vestry meeting at Grace Episcopal Church, Lee returns home and falls ill – he is unable to speak saying the blessing at the family supper. He is confined to his quarters and his condition worsens to a coma in the following days.
12 October 1870 – Lee dies at home. He is buried at the Chapel. Some years later a "Recumbent Lee" monument is placed on the dais.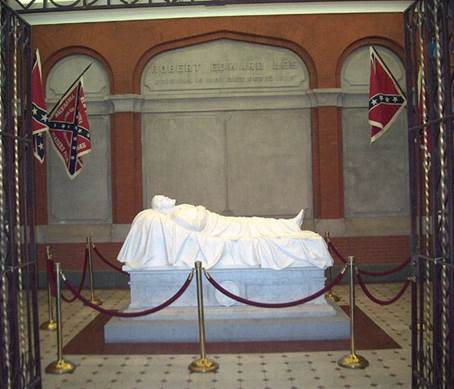 1870 – Kentucky Legislature creates "Lee" County where the Kentucky River forms in honor of Robert E. Lee, and at some point afterwar designates Lee's Birthday, 19 January, as a State Public Holiday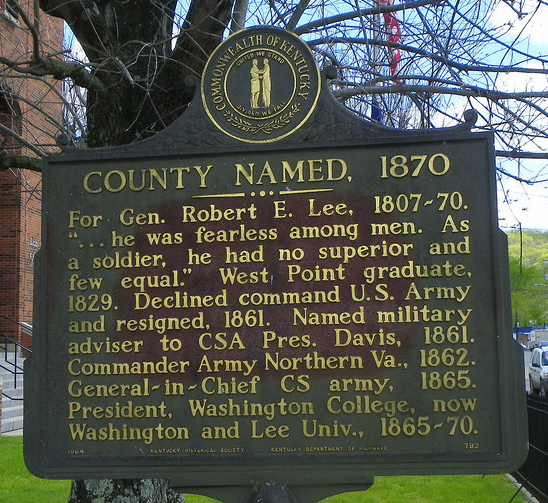 County Named, 1870
For Gen. Robert E. Lee, 1807-70. ".... he was fearless among men. As a soldier, he had no superior and few equal." West Point graduate, 1829. Declined command U.S. Army and resigned, 1861. Named military adviser to CSA Pres. Davis, 1861. Commander Army Northern Va., 1862. Highest ranking CSA officer, 1865. President, Washington College, now Washington and Lee Univ., 1865-70.
Much of the timeline above comes from the PBS, some verbatim, some at that site with a slant toward the liberal lefts interpretation of history http://www.pbs.org/wgbh/americanexperience/features/timeline/lee-timeline/
KRS 2.110 Public Holidays
Quotation on the County Historical Marker from "The Life of Lee" by John Esten Cooke http://www.freeinfosociety.com/media/pdf/4752.pdf