1 St. Peter iii. 8.

BE ye all of one mind, having compassion one of another, love as brethren, be pitiful, be courteous: not rendering evil for evil, or railing for railing: but contrariwise blessing; knowing that ye are thereunto called, that ye should inherit a blessing. For he that will love life, and see good days, let him refrain his tongue from evil, and his lips that they speak no guile: let him eschew evil, and do good; let him seek peace, and ensue it. For the eyes of the Lord are over the righteous, and his ears are open unto their prayers: but the face of the Lord is against them that do evil. And who is he that will harm you, if ye be followers of that which is good? But and if ye suffer for righteousness' sake, happy are ye: and be not afraid of their terror, neither be troubled; but sanctify the Lord God in your hearts.

St. Luke v. 1.

IT came to pass, that, as the people pressed upon him to hear the word of God, he stood by the lake of Gennesaret, and saw two ships standing by the lake: but the fishermen were gone out of them, and were washing their nets. And he entered into one of the ships, which was Simon's, and prayed him that he would thrust out a little from the land. And he sat down, and taught the people out of the ship. Now when he had left speaking, he said unto Simon, Launch out into the deep, and let down your nets for a draught. And Simon answering said unto him, Master, we have toiled all the night, and have taken nothing: nevertheless at thy word I will let down the net. And when they had this done, they inclosed a great multitude of fishes: and their net brake. And they beckoned unto their partners, which were in the other ship, that they should come and help them. And they came, and filled both the ships, so that they began to sink. When Simon Peter saw it, he fell down at Jesus' knees, saying, Depart from me; for I am a sinful man, O Lord. For he was astonished, and all that were with him, at the draught of the fishes which they had taken: and so was also James, and John, the sons of Zebedee, which were partners with Simon. And Jesus said unto Simon, Fear not; from henceforth thou shalt catch men. And when they had brought their ships to land, they forsook all, and followed him.
---


HOMILY

Augustine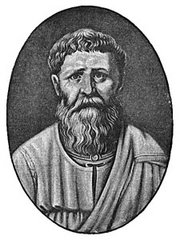 Homily
Psalm XXVI

Of David himself.

1. It may be attributed to David himself, not the Mediator, the Man Christ Jesus, but the whole Church now perfectly established in Christ.

2. "Judge me, O Lord, for I have walked in my innocence" (ver. 1). Judge me, O Lord, for, after the mercy which Thou first showedst [643] me, I have some desert of my innocence, the way whereof I have kept. "And trusting in the Lord I shall not be moved." And yet not even so trusting in myself, but in the Lord, I shall abide in Him.

3. "Prove me, O Lord, and try me" (ver. 2). Lest, however, any of my secret sins should be hid from me, prove me, O Lord, and try me, making me known, not to Thee from whom nothing is hid, but to myself, and to men. "Burn my reins and my heart." Apply a remedial purgation, as it were fire, to my pleasures and thoughts. "For Thy mercy is before mine eyes" (ver. 3). For, that I be not consumed by that fire, not my merits, but Thy mercy, whereby Thou hast brought me on to such a life, is before my eyes. "And I have been pleasing in Thy truth." And since my own falsehood hath been displeasing to me, but Thy truth pleasing, I have myself been pleasing also with it and in it.

4. "I have not sat with the council of vanity" (ver. 4). I have not chosen to give my heart to them who endeavour to provide, what is impossible, how they may be blessed in the enjoyment of things transitory. "And I will not enter in with them that work wickedly." And since this is the very cause of all wickedness, therefore I will not have my conscience hid, with them that work wickedly.

5. "I have hated the congregation of evil doers." But to arrive at this council of vanity, congregations of evil doers are formed, which I have hated. "And I will not sit with the ungodly" (ver. 5). And, therefore, with such a council, with the ungodly, I will not sit, that is, I will not place my consent. [644] "And I will not sit with the ungodly."

6. "I will wash mine hands amid the innocent" (ver. 6). I will make clean my works among the innocent: among the innocent will I wash mine hands, with which I shall embrace Thy glorious gifts. [645] "And I will compass Thy altar, O Lord." [646]

7. "That I may hear the voice of Thy praise." That I may learn how to praise Thee. "And that I may declare all Thy wondrous works" (ver. 7). And after I have learnt, I may set forth all Thy wondrous works.

8. "O Lord, I have loved the beauty of Thy house:" of Thy Church. "And the place of the habitation of Thy glory" (ver. 8): where Thou dwellest, and art glorified.

9. "Destroy not my soul with the ungodly" (ver. 9). Destroy not then, together with them that hate Thee, my soul, which hath loved the beauty of Thy house. "And my life with the men of blood." And with them that hate their neighbour. For Thy house is beautified with the two commandments. [647]

10. "In whose hands is wickedness." Destroy me not then with the ungodly and the men of blood, whose works are wicked. "Their right hand is full of gifts" (ver. 10). And that which was given them to obtain eternal salvation, they have converted into the receiving this world's gifts, "supposing that godliness is a trade." [648]

11. "But I have walked in mine innocence: deliver me, and have mercy on me" (ver. 11). Let so great a price of my Lord's Blood avail for my complete deliverance: and in the dangers of this life let not Thy mercy leave me.

12. "My foot hath stood in uprightness." My Love hath not withdrawn from Thy righteousness. "In the Churches I will bless Thee, O Lord" (ver. 12). I will not hide Thy blessing, O Lord, from those whom Thou hast called; for next to the love of Thee I join the love of my neighbour.



Let us pray in the words of Augustine.

Turn we to the Lord God, the Father Almighty, and with pure hearts offer to him, so far as our meanness can, great and true thanks, with all our hearts praying his exceeding kindness, that of his good pleasure he would deign to hear our prayers, that by his Power he would drive out the enemy from our deeds and thoughts, that he would increase our faith, guide our understandings, give us spiritual thoughts, and lead us to his bliss, through Jesus Christ his Son our Lord, who liveth and reigneth with him, in the Unity of the Holy Spirit, one God, for ever and ever. Amen.
[A prayer which he was wont to use after his Sermons and Lectures.]

NPNF (V1-08) St. Augustine


Notes:

[642] Lat. XXV. [643] Praerogasti. [644] Placitum non collocabo. [645] Sublimia tua. [646] [We are "made unto our God, priests."--C.] [647] [Matt. xxii. 40.--C.] [648] 1 Tim. vi. 5.

---

HOME