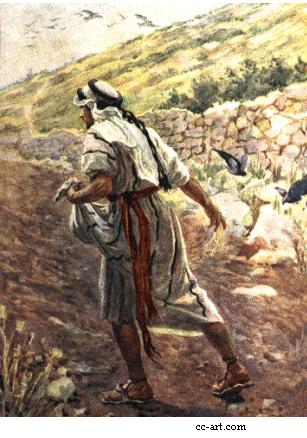 on the good ground are they, which in an honest and good heart, having heard the word, keep it, and bring forth fruit with patience
---
Isaiah l. 4

The Lord GOD hath given me the tongue of the learned, that I should know how to speak a word in season to him that is weary: he wakeneth morning by morning, he wakeneth mine ear to hear as the learned. The Lord GOD hath opened mine ear, and I was not rebellious, neither turned away back. I gave my back to the smiters, and my cheeks to them that plucked off the hair: I hid not my face from shame and spitting. For the Lord GOD will help me; therefore shall I not be confounded: therefore have I set my face like a flint, and I know that I shall not be ashamed. He is near that justifieth me; who will contend with me? let us stand together: who is mine adversary? let him come near to me. Behold, the Lord GOD will help me; who is he that shall condemn me? lo, they all shall wax old as a garment; the moth shall eat them up. Who is among you that feareth the LORD, that obeyeth the voice of his servant, that walketh in darkness, and hath no light? let him trust in the name of the LORD, and stay upon his God.

Psalms for Morning and Evening 33, 93 | 139

ii Corinthians xi. 19

YE suffer fools gladly, seeing ye yourselves are wise. For ye suffer, if a man bring you into bondage, if a man devour you, if a man take of you, if a man exalt himself, if a man smite you on the face. I speak as concerning reproach, as though we had been weak. Howbeit wherein-soever any is bold, (I speak foolishly,) I am bold also. Are they Hebrews? so am I. Are they Israelites? so am I. Are they the seed of Abraham? so am I. Are they ministers of Christ? (I speak as a fool) I am more; in labours more abundant, in stripes above measure, in prisons more frequent, in deaths oft. Of the Jews five times received I forty stripes save one. Thrice was I beaten with rods, once was I stoned, thrice I suffered shipwreck, a night and a day I have been in the deep; in journeyings often, in perils of waters, in perils of robbers, in perils by mine own country-men, in perils by the heathen, in perils in the city, in perils in the wilderness, in perils in the sea, in perils among false brethren; in weariness and painfulness, in watchings often, in hunger and thirst, in fastings often, in cold and nakedness. Beside those things that are without, that which cometh upon me daily, the care of all the churches. Who is weak, and I am not weak? who is offended, and I burn not? If I must needs glory, I will glory of the things which concern mine infirmities. The God and Father of our Lord Jesus Christ, which is blessed for evermore, knoweth that I lie not. In Damascus the governor under Aretas the king kept the city of the Damascenes with a garrison, desirous to apprehend me: And through a window in a basket was I let down by the wall, and escaped his hands. It is not expedient for me doubtless to glory. I will come to visions and revelations of the Lord. I knew a man in Christ above fourteen years ago, (whether in the body, I cannot tell; or whether out of the body, I cannot tell: God knoweth;) such an one caught up to the third heaven. And I knew such a man, (whether in the body, or out of the body, I cannot tell: God knoweth;) How that he was caught up into paradise, and heard unspeakable words, which it is not lawful for a man to utter. Of such an one will I glory: yet of myself I will not glory, but in mine infirmities. For though I would desire to glory, I shall not be a fool; for I will say the truth: but now I forbear, lest any man should think of me above that which he seeth me to be, or that he heareth of me. And lest I should be exalted above measure through the abundance of the revelations, there was given to me a thorn in the flesh, the messenger of Satan to buffet me, lest I should be exalted above measure. For this thing I besought the Lord thrice, that it might depart from me. And he said unto me, My grace is sufficient for thee: for my strength is made perfect in weakness. Most gladly therefore will I rather glory in my infirmities, that the power of Christ may rest upon me.

St. Luke viii. 4

WHEN much people were gathered together, and were come to him out of every city, he spake by a parable: A sower went out to sow his seed: and as he sowed, some fell by the way-side; and it was trodden down, and the fowls of the air devoured it. And some fell upon a rock; and as soon as it was sprung up, it withered away, because it lacked moisture. And some fell among thorns; and the thorns sprang up with it, and choked it. And other fell on good ground, and sprang up, and bare fruit an hundredfold. And when he had said these things, he cried, He that hath ears to hear, let him hear. And his disciples asked him, saying, What might this parable be? And he said, Unto you it is given to know the mysteries of the kingdom of God: but to others in parables; that seeing they might not see, and hearing they might not understand. Now the parable is this: The seed is the word of God. Those by the way-side are they that hear; then cometh the devil, and taketh away the word out of their hearts, lest they should believe and be saved. They on the rock are they, which, when they hear, receive the word with joy; and these have no root, which for a while believe, and in time of temptation fall away. And that which fell among thorns are they, which, when they have heard, go forth, and are choked with cares and riches and pleasures of this life, and bring no fruit to perfection. But that on the good ground are they, which in an honest and good heart, having heard the word, keep it, and bring forth fruit with patience.
---

Chrysostom on Ephisians xi. vs 21bff.
Augustine on Psalm XXXIII, XCIII | CXXXIX

Homily
John Chrysostom
Excerpt of Homily XXIV
2nd Corinthians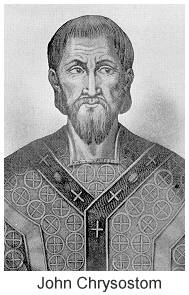 Ver. 19. "For ye bear with the foolish gladly." 'So that ye are to blame for this, and more than they. For if ye had not borne with them, and so far as it lay in them received damage, I would not have spoken a word; but I do it out of a tender care for your salvation, and in condescension. And behold, how he accompanies even his censure with praise.
For having said, "ye bear with the foolish gladly;" he added, "Being wise yourselves." For it was a sign of folly to glory, and on such matters. And yet it behoved to rebuke them, and say, 'Do not bear with the foolish;' he does this, however, at greater advantage. For in that case he would have seemed to rebuke them because he himself was destitute of these advantages; but now having showed himself to be their superior even in these points, and to esteem them to be nothing, he corrects them with greater effect. At present, however, before entering upon his own praises and the comparison, he also reproaches the Corinthians with their great slavishness, because they were extravagantly submissive to them. And observe how he ridicules them.
Ver. 20. "For ye bear with a man," he says, "if he devour you." How then saidst thou, "that wherein they glory, they may be found even as we?" (ver. 12.) Seest thou that he shows that they did take of them, and not simply take, but even in excess: for the term "devour" plainly shows this, "If a man bring you into bondage." 'Ye have given away both your money,' he says, 'and your persons, and your freedom. For this is more than taking of you; to be masters not only of your money, but of yourselves also.' And he makes this plain even before, where he says, "If others partake of this right over you, do not we much more?" (1 Cor. ix. 12.) Then he addeth what is more severe, saying, "If a man exalt himself." 'For neither is your slavery of a moderate sort, nor are your masters gentle, but burdensome and odious.' "If a man smite you on the face." Seest thou again a further stretch of tyranny? He said this, not meaning that they were stricken on the face, but that they spat upon and dishonored them; wherefore he added,
Ver. 21. "I speak by way of disparagement," for ye suffer no whit less than men smitten on the face. What now can be stronger than this? What oppression more bitter than this? when having taken from you both your money and your freedom and your honor, they even so are not gentle towards you nor suffer you to abide in the rank of servants, but have used you more insultingly than any bought slave.
"As though we had been weak." The expression is obscure. For since it was a disagreeable subject he therefore so expressed it as to steal away the offensiveness by the obscurity. For what he wishes to say is this. 'For cannot we also do these things? Yes, but we do them not. Wherefore then do ye bear with these men, as though we could not do these things? Surely it were something to impute to you that ye even bear with men who play the fool; but that ye do this, even when they so despise you, plunder you, exalt themselves, smite you, can admit neither of excuse nor any reason at all. For this is a new fashion of deceiving. For men that deceive both give and flatter; but these both deceive, and take and insult you. Whence ye cannot have a shadow of allowance, seeing that ye spit on those that humble themselves for your sakes that ye may be exalted, but admire those who exalt themselves that ye may be humbled. For could not we too do these things? Yes, but we do not wish it, looking to your advantage. For they indeed sacrificing your interests seek their own, but we sacrificing our own interests seek for yours.' Seest thou how in every instance, whilst speaking plainly to them, he also alarms them by what he says. 'For,' he says, 'if it be on this account that ye honor them, because they smite and insult you, we also can do this, enslave, smite, exalt ourselves against you.'
[3.] Seest thou how he lays upon them the whole blame, both of their senseless pride and of what seems to be folly in himself. 'For not that I may show myself more conspicuous, but that I may set you free from this bitter slavery, am I compelled to glory some little. But it is meet to examine not simply things that are said, but, in addition, the reason also. For Samuel also put together a high panegyric upon himself, when he anointed Saul, saying, "Whose ass have I taken, or calf, or shoes? or have I oppressed any of you?" (1 Sam. xii. 3, LXX.) And yet no one finds fault with him. And the reason is because he did not say it by way of setting off himself; but because he was going to appoint a king, he wishes under the form of a defence [of himself] to instruct him to be meek and gentle. And observe the wisdom of the prophet, or rather the loving kindness of God. For because he wished to turn them from [their design,] bringing together a number of grievous things he asserted them of their future king, as, for instance, that he would make their wives grind at the mill, (1 Sam. viii. 11-18.) the men shepherds and muleteers; for he went through all the service appertaining to the kingdom with minuteness. But when he saw that they would not be hindered by any of these things, but were incurably distempered; he thus both spareth them and composeth their king to gentleness. (1 Sam. xii. 5.)
Therefore he also takes him to witness. For indeed no one was then bringing suit or charge against him that he needed to defend himself, but he said those things in order to make him better. And therefore also he added, to take down his pride, "If ye will hearken, ye and your king," (ibid. 14.) such and such good things shall be yours; "but if ye will not hearken, then the reverse of all." Amos also said, "I was no prophet, nor the son of a prophet, but only a herdsman, a gatherer of sycamore fruit. And God took me." (Amos vii. 14, 15.) But he did not say this to exalt himself, but to stop their mouths that suspected him as no prophet, and to show that he is no deceiver, nor says of his own mind the things which he says. Again, another also, to show the very same thing, said, "But truly I am full of power by the spirit and might of the Lord." (Micah iii. 8.) And David also when he related the matter of the lion and of the bear, (1 Sam. xvii. 34, &c.) spake not to glorify himself, but to bring about a great and admirable end. For since it was not believed possible he could conquer the barbarian unarmed, he that was not able even to bear arms; he was compelled to give proofs of his own valor. And when he cut off Saul's skirt, he said not what he said out of display, but to repel an ill suspicion which they had scattered abroad against him, saying, that he wished to kill him. (1 Sam. xxiv. 4, &c.) It is meet therefore every where to seek for the reason. For he that looks to the advantage of his hearers even though he should praise himself, not only deserves not to be found fault with, but even to be crowned; and if he is silent, then to be found fault with. For if David had then been silent in the matter of Goliath, they would not have allowed him to go out to the battle, nor to have raised that illustrious trophy. On this account then he speaks being compelled; and that not to his brethren, although he was distrusted by them too as well as by the king; but envy stopped their ears. Therefore leaving them alone, he tells his tale to him who was not as yet envious of him.
[4.] For envy is a fearful, a fearful thing, and persuades men to despise their own salvation. In this way did both Cain destroy himself, and again, before his time, the devil who was the destroyer of his father. So did Saul invite an evil demon against his own soul; and when he had invited, he again envied his physician. For such is the nature of envy; he knew that he was saved, yet he would rather have perished than see him that saved him had in honor. What can be more grievous than this passion? One cannot err in calling it the devil's offspring. And in it is contained the fruit of vainglory, or rather its root also; for both these evils are wont mutually to produce each other. And thus in truth it was that Saul even thus envied, when they said, "David smote by ten thousands," (1 Sam. xviii. 7.) than which what can be more senseless? For why dost thou envy? tell me! 'Because such an one praised him?' Yet surely thou oughtest to rejoice; besides, thou dost not know even whether the praise be true. And dost thou therefore grieve because without being admirable he hath been praised as such? And yet thou oughtest to feel pity. For if he be good, thou oughtest not to envy him when praised, but thyself to praise along with those that speak well of him; but if not such, why art thou galled? why thrust the sword against thyself? 'Because admired by men?' But men to-day are and to-morrow are not. 'But because he enjoys glory?' Of what sort, tell me? That of which the prophet says that it is "the flower of grass." (Is. xl. 6. LXX.) Art thou then therefore envious because thou bearest no burden, nor carriest about with thee such loads of grass? But if he seems to thee to be enviable on this account, then why not also woodcutters who carry burdens every day and come to the city [with them]? For that burden is nothing better than this, but even worse. For theirs indeed galls the body only, but this hath oftentimes harmed the soul even and occasioned greater solicitude than pleasure. And should one have gained renown through eloquence, the fear he endures is greater than the good report he bears; yea, what is more, the one is short, the other perpetual. 'But he is in favor with those in authority?' In that too again is danger and envy. For as thou feelest towards him, so do many others feel. 'But he is praised continually?' This produces bitter slavery. For he will not dare to do fearlessly aught of what according to his judgment he should, lest he should offend those that extol him, for that distinction is a hard bondage to him.
So that the more he is known to, so many the more masters he has, and his slavery becomes the greater, as masters of his are found in every quarter. A servant indeed, when he is released from the eye of his master, both takes breath and lives in all freedom; but this man meets with masters at every turn, for he is the slave of all that appear in the forum. And even should some necessary object press, he dares not set foot in the forum, except it be with his servants following, and his horse, and all his other show set in array, lest his masters condemn him. And if he sees some friend of those who are truly so, he has not the boldness to talk with him on an equal footing: for he is afraid of his masters, lest they depose him from his glory. So that the more distinguished he is, so much the more he is enslaved. And if he suffer aught that is disagreeable, the insult is the more annoying, both in that he has more to witness it and it seems to infringe his dignity. It is not only an insult, but a calamity also, for he has also many who exult at it; and in like way if he come to the enjoyment of any good thing, he has more who envy and detract and do their vigilance to destroy him. Is this then a good? tell me. Is this glory? By no means; but ingloriousness, and slavery, and bonds, and every burdensome thing one can say. But if the glory that cometh of men be so greatly to be coveted in thy account, and if it quite disquiets thee that such and such an one is applauded of the many; when thou beholdest him in the enjoyment of that applause, pass over in thy thought to the world to come and the glory which is there. And just as when hurrying to escape the onset of a wild beast, thou enterest into a cabin and shuttest to the doors; so now also flee unto the life to come, and that unspeakable glory. For so shalt thou both tread this under thy feet, and wilt easily lay hold upon that, and wilt enjoy the true liberty, and the eternal good things; whereunto may we all attain through the grace and love towards men of our Lord Jesus Christ, with Whom to the Father, with the Holy Spirit, be glory, might, honor, now and ever, and world without end. Amen.
---

HOME