"Rogation" comes from the Latin rogare, "to ask" (petition earnestly). Rogation Sunday has for the Gospel the verse: "Ask and ye shall receive". Ancient Rogation days are observed on the three days before Ascension Day. The Rogation days began in 470 under Bishop Mamertus of Vienne in response to a series of natural calamities. Later the prayers were for bountiful crops and the good work of farmers. On these days the priest might bless crops. Nowadays prayers may be for other occupations with a recommitment to their labors Rogation days may be used anytime where there is a specific need for earnest prayer -- as that was its original use in 470. A modern custom has been to focus prayers and actions toward charity to help feed poor folk.
SECOND HARVEST | WORLD VISION | FEED THE CHILDREN


---
Ezekiel xxxiv. 25
I WILL make with them a covenant of peace, and will cause the evil beasts to cease out of the land: and they shall dwell safely in the wilderness, and sleep in the woods. And I will make them and the places round about my hill a blessing; and I will cause the shower to come down in his season; there shall be showers of blessing. And the tree of the field shall yield her fruit, and the earth shall yield her increase, and they shall be safe in their land, and shall know that I am the LORD, when I have broken the bands of their yoke, and delivered them out of the hand of those that served themselves of them. And they shall no more be a prey to the heathen, neither shall the beast of the land devour them; but they shall dwell safely, and none shall make them afraid. And I will raise up for them a plant of renown, and they shall be no more consumed with hunger in the land, neither bear the shame of the heathen any more. Thus shall they know that I the LORD their God am with them, and that they, even the house of Israel, are my people, saith the Lord GOD. And ye my flock, the flock of my pasture, are men, and I am your God, saith the Lord GOD.
St. Luke xi. 5
JESUS said unto them, Which of you shall have a friend, and shall go unto him at midnight, and say unto him, Friend, lend me three loaves; for a friend of mine in his journey is come to me, and I have nothing to set before him? and he from within shall answer and say, Trouble me not: the door is now shut, and my children are with me in bed; I cannot rise and give thee. I say unto you, Though he will not rise and give him, because he is his friend, yet because of his importunity he will rise and give him as many as he needeth. And I say unto you, Ask, and it shall be given you; seek, and ye shall find; knock, and it shall be opened unto you. For every one that asketh receiveth; and he that seeketh findeth; and to him that knocketh it shall be opened. If a son shall ask bread of any of you that is a father, will he give him a stone? or if he ask a fish, will he for a fish give him a serpent? or if he shall ask an egg, will he offer him a scorpion? If ye then, being evil, know how to give good gifts unto your children: how much more shall your heavenly Father give the Holy Spirit to them that ask him?

HOMILY
Homily VI on Prayer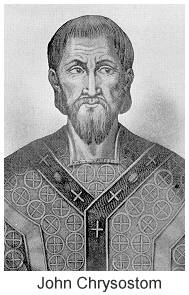 "There is nothing more worthwhile than to pray to God and to converse with him, for prayer unites us with God as his companions. As our bodily eyes are illuminated by seeing the light, so in contemplating God our soul is illuminated by him. Of course the prayer I have in mind is no matter of routine, it is deliberate and earnest. It is not tied down to a fixed timetable; rather it is a state which endures by night and day.
Our soul should be directed in God, not merely when we suddenly think of prayer, but even when we are concerned with something else. If we are looking after the poor, if we are busy in some other way, or if we are doing any type of good work, we should season our actions with the desire and the remembrance of God. Through this salt of the love of God we can all become a sweet dish for the Lord. If we are generous in giving time to prayer, we will experience its benefits throughout our life.
Prayer is the light of the soul, giving us true knowledge of God. It is a link mediating between God and man. By prayer the soul is borne up to heaven and in a marvellous way embraces the Lord. This meeting is like that of an infant crying on its mother, and seeking the best of milk. The soul longs for its own needs and what it receives is better than anything to be seen in the world.
Prayer is a precious way of communicating with God, it gladdens the soul and gives repose to its affections. You should not think of prayer as being a matter of words. It is a desire for God, an indescribable devotion, not of human origin, but the gift of God's grace. As Saint Paul says: we do not know how to pray as we ought, but the Spirit himself intercedes for us with sighs too deep for words.
Anyone who receives from the Lord the gift of this type of prayer possesses a richness that is not to be taken from him, a heavenly food filling up the soul. Once he has tasted this food, he is set alight by an eternal desire for the Lord, the fiercest of fires lighting up his soul.
To set about this prayer, paint the house of your soul with modesty and lowliness and make it splendid with the light of justice. Adorn it with the beaten gold of good works and, for walls and stones, embellish it assiduously with faith and generosity. Above all, place prayer on top of this house as its roof so that the complete building may be ready for the Lord. Thus he will be received in a splendid royal house and by grace his image will already be settled in your soul. Amen
---

HOME