Other Homilies: Augustine on Psalm XV, Psalm XVI | Parallel Gospel of Matthew xx.

Homily LXVI.
John Chrysostom [ca400 AD]
From a sermon on the parallel scriptures in Matthew XX. 29, 30.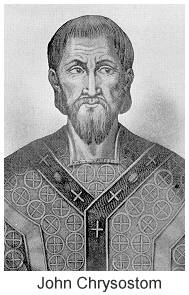 "And as they departed from Jericho, great multitudes followed Him. And, behold, two blind men sitting by the wayside, when they heard that Jesus passed by, cried out, saying, Have mercy on us, O Lord, Thou Son of David."
See whence He passed unto Jerusalem, and where He abode before this, with regard to which it seems to me especially worthy of inquiry, wherefore He went not away even long before this from thence unto Galilee, but through Samaria. But this we will leave to them that are fond of learning. For if any one were disposed to search the matter out carefully, he will find that John intimates it well, and hath expressed the cause.
But let us keep to the things set before us, and let us listen to these blind men, who were better than many that see. For neither having a guide, nor being able to see Him when come near to them, nevertheless they strove to come unto Him, and began to cry with a loud voice, and when rebuked for speaking, they cried the more. For such is the nature of an enduring soul, by the very things that hinder, it is borne up.
But Christ suffered them to be rebuked, that their earnestness might the more appear, and that thou mightest learn that worthily they enjoy the benefits of their cure. Therefore He doth not so much as ask, "Do ye believe?" as He doth with many; for their cry, and their coming unto Him, sufficed to make their faith manifest.
Hence learn, O beloved, that though we be very vile and outcast, but yet approach God with earnestness, even by ourselves we shall be able to effect whatsoever we ask. See, for instance, these men, how, having none of the apostles to plead with them, but rather many to stop their mouths, they were able to pass over the hindrances, and to come unto Jesus Himself. And yet the evangelist bears witness to no confidence of lifein them, but earnestness sufficed them instead of all.
These then let us also emulate. Though God defer the gift, though there be many withdrawing us, let us not desist from asking. For in this way most of all shall we win God to us. See at least even here, how not poverty, not blindness, not their being unheard, not their being rebuked by the multitude, not anything else, impeded their exceeding earnestness. Such is the nature of a fervent and toiling soul.
What then saith Christ? "He called them, and said, What will ye that I should do unto you? They say unto Him, Lord, that our eyes may be opened." Wherefore doth He ask them? Lest any one should think that when they wish to receive one thing, He giveth them another thing. For indeed it is usual with Him on every occasion, first to make manifest and discover to all the virtue of those He is healing, and then to apply the cure, for one reason, that He might lead on the others likewise to emulation; and for another, that He might show that they were enjoying the gift worthily. This, for instance, He did with respect to the Canaanitish woman also, this too in the case of the centurion, this again as to her that had the issue of blood, or rather that marvellous woman even anticipated the Lord's inquiry; but not so did He pass her by, but even after the cure makes her manifest. Such earnest care had He on every occasion to proclaim the good deeds of them that come to Him, and to show them to be much greater than they are, which He doth here also.
Then, when they said what they wished, He had compassion on them, and touched them. For this alone is the cause of their cure, for which also He came into the world. But nevertheless, although it be mercy and grace, it seeks for the worthy.
But that they were worthy is manifest, both from what they cried out, and from the fact that, when they had received, they did not hasten away, as many do, being ungrateful after the benefits. Nay, they were not like this, but were both persevering before the gift, and after the gift grateful, for they followed Him.
This sermon continued on The First Sunday in Advent
---

HOME