---
Malachi iii. 1

BEHOLD, I will send my messenger, and he shall prepare the way before me: and the Lord, whom ye seek, shall suddenly come to his temple, even the messenger of the covenant, whom ye delight in: behold, he shall come, saith the LORD of hosts. But who may abide the day of his coming? and who shall stand when he appeareth? for he is like a refiner's fire, and like fullers' sope: and he shall sit as a refiner and purifier of silver: and he shall purify the sons of Levi, and purge them as gold and silver, that they may offer unto the LORD an offering in righteousness. Then shall the offering of Judah and Jerusalem be pleasant unto the LORD, as in the days of old, and as in former years. And I will come near to you to judgment; and I will be a swift witness against the sorcerers, and against the adulterers, and against false swearers, and against those that oppress the hireling in his wages, the widow, and the fatherless, and that turn aside the stranger from his right, and fear not me, saith the LORD of hosts.

Galatians i

Paul, an apostle, (not of men, neither by man, but by Jesus Christ, and God the Father, who raised him from the dead;) And all the brethren which are with me, unto the churches of Galatia: Grace be to you and peace from God the Father, and from our Lord Jesus Christ, Who gave himself for our sins, that he might deliver us from this present evil world, according to the will of God and our Father: To whom be glory for ever and ever. Amen. I marvel that ye are so soon removed from him that called you into the grace of Christ unto another gospel: Which is not another; but there be some that trouble you, and would pervert the gospel of Christ. But though we, or an angel from heaven, preach any other gospel unto you than that which we have preached unto you, let him be accursed. As we said before, so say I now again, if any man preach any other gospel unto you than that ye have received, let him be accursed. For do I now persuade men, or God? or do I seek to please men? for if I yet pleased men, I should not be the servant of Christ. But I certify you, brethren, that the gospel which was preached of me is not after man. For I neither received it of man, neither was I taught it, but by the revelation of Jesus Christ. For ye have heard of my conversation in time past in the Jews' religion, how that beyond measure I persecuted the church of God, and wasted it: And profited in the Jews' religion above many my equals in mine own nation, being more exceedingly zealous of the traditions of my fathers. But when it pleased God, who separated me from my mother's womb, and called me by his grace, To reveal his Son in me, that I might preach him among the heathen; immediately I conferred not with flesh and blood: Neither went I up to Jerusalem to them which were apostles before me; but I went into Arabia, and returned again unto Damascus. Then after three years I went up to Jerusalem to see Peter, and abode with him fifteen days. But other of the apostles saw I none, save James the Lord's brother. Now the things which I write unto you, behold, before God, I lie not. Afterwards I came into the regions of Syria and Cilicia; And was unknown by face unto the churches of Judaea which were in Christ: But they had heard only, That he which persecuted us in times past now preacheth the faith which once he destroyed. And they glorified God in me.

St. Luke ii. 22

AND when the days of her purification according to the law of Moses were accomplished, they brought him to Jerusalem, to present him to the Lord; (as it is written in the law of the Lord, Every male that openeth the womb shall be called holy to the Lord;) and to offer a sacrifice according to that which is said in the law of the Lord, A pair of turtle-doves, or two young pigeons. And, behold, there was a man in Jerusalem, whose name was Simeon; and the same man was just and devout, waiting for the consolation of Israel: and the Holy Ghost was upon him. And it was revealed unto him by the Holy Ghost, that he should not see death, before he had seen the Lord's Christ. And he came by the Spirit into the temple: and when the parents brought in the child Jesus, to do for him after the custom of the law, then took he him up in his arms, and blessed God, and said, Lord, now lettest thou thy servant depart in peace, according to thy word: for mine eyes have seen thy salvation, which thou hast prepared before the face of all people; a light to lighten the Gentiles, and the glory of thy people Israel. And Joseph and his mother marvelled at those things which were spoken of him. And Simeon blessed them, and said unto Mary his mother, Behold, this child is set for the fall and rising again of many in Israel; and for a sign which shall be spoken against; (yea, a sword shall pierce through thy own soul also,) that the thoughts of many hearts may be revealed. And there was one Anna, a prophetess, the daughter of Phanuel, of the tribe of Aser: she was of a great age, and had lived with an husband seven years from her virginity; and she was a widow of about fourscore and four years, which departed not from the temple, but served God with fastings and prayers night and day. And she coming in that instant gave thanks likewise unto the Lord, and spake of him to all them that looked for redemption in Jerusalem. And when they had performed all things according to the law of the Lord, they returned into Galilee, to their own city Nazareth. And the child grew, and waxed strong in spirit, filled with wisdom: and the grace of God was upon him.


---
Other homilies Chrysostom on Galatians i

Homily on the Feast of the Presentation
Candlemass
Sophorius
Bishop of Jerulsalem, ca 636AD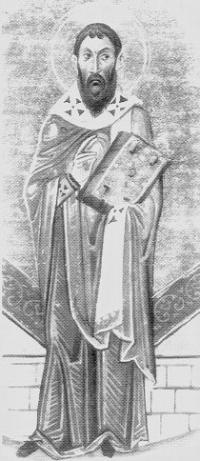 Let us receive the light whose brilliance is eternal!
In honor of the divine mystery that we celebrate today, let us all hasten to meet Christ. Everyone should be eager to join the procession and to carry a light.
Our lighted candles are a sign of the divine splendor of the one who comes to expel the dark shadows of evil and to make the whole universe radiant with the brilliance of his eternal light. Our candles also show how bright out souls should be when we go to meet Christ.
The Mother of God, the most pure Virgin, carried the true light in her arms and brought him to those who lay in darkness. We too should carry a light for all to see and reflect the radiance o the true light a we hasten to meet him.
The light has come and has shone upon a world enveloped in shadows; the Dayspring from on high has visited us and given light to those who lived in darkness. This, then is our feast, and we join in procession with lighted candles to reveal the light that has shone upon us and the glory that is yet to come to us through him. So let us hasten all together to meet our God.
The true light has come, the light that enlightens every man who is born into this world. Let all of us, my brethren, be enlightened and made radiant by this light. Let all of us share in its splendor, and be so filled with it that no one remains in the darkness. Let us be shining ourselves as we go together to meet and to receive with the aged Simeon the light whose brilliance is eternal. Rejoicing with Simeon, let us sing a hymn of thanksgiving to God, the Father of the light, who sent the true light to dispel the darkness and to give us all a share in his splendor.
Through Simeon's eyes we too have seen the salvation of God which he prepared for all the nations and revealed as the glory of the new Israel, which is ourselves. As Simeon was released from the bonds of this life when he had seen Christ, so we too were at once freed from our old state of sinfulness.
By faith we too embraced Christ, the salvation of God the Father, as he came to us from Bethlehem. Gentiles before, we have now become the people of God. Our eyes have seen God incarnate, and because we have seen him present among us and have mentally received him into our arms, we are called the new Israel. Never shall we forget this presence; every year we keep a feast in its honor. Amen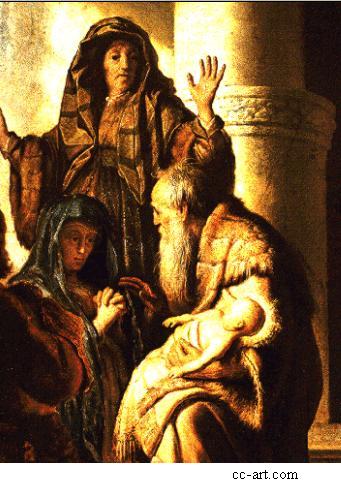 Anna... gave thanks likewise unto the Lord
---
Note: This feast day is called Wive's Feast Day in Northern England and Ireland, as they would use it for a social time. The feast day may have been the predecessor of Groundhog'd Day as is shown by the poem for Candlemass Day.

If Candlemas Day be fair and bright
Winter will have another flight;
If on Candlemas Day be shower and rain,
Winter is gone and will not come again.
If the sun shines bright on Candlemas Day
The half of the winter's not yet away.

---

HOME