Other Homilies Chrysostom on Acts



Homily LXV
John Chrysostom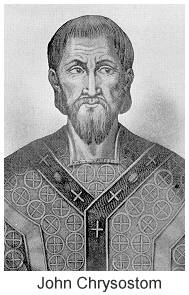 an excerpt
... James survived not a long time, but from the beginning he was so greatly filled with warmth, and so forsook all the things of men, and mounted up to an height unutterable, as straightway to be slain. Thus, in all respects, they after these things became excellent.
But then, "they were moved with indignation." What then saith Christ? "He called them unto Him, and said, The princes of the Gentiles exercise dominion over them." For, as they were disturbed and troubled, He soothes them by His call before His word, and by drawing them near Him. For the two having separated themselves from the company of the ten, had stood nearer Him, pleading their own interests. Therefore He brings near Him these also, by this very act, and by exposing and revealing it before the rest, soothing the passion both of the one and of the other.
And not as before, so now also doth He check them. For whereas before He brings little children into the midst, and commands to imitate their simplicity and lowliness; here He reproves them in a sharper way from the contrary side, saying, "The princes of the Gentiles exercise dominion over them, and their great ones exercise authority upon them, but it shall not be so among you; but he that will be great among you, let this man be minister to all; and he that will be first, let him be last of all;" showing that such a feeling as this is that of heathens, I mean, to love the first place. For the passion is tyrannical, and is continually hindering even great men; therefore also it needs a severer stripe. Whence He too strikes deeper into them, by comparison with the Gentiles shaming their inflamed soul, and removes the envy of the one and the arrogance of the other, all but saying, "Be not moved with indignation, as insulted. For they harm and disgrace themselves most, who on this wise seek the first places, for they are amongst the last. For matters with us are not like matters without. 'For the princes of the Gentiles exercise dominion over them,' but with me the last, even he is first."
"And in proof that I say not these things without cause, by the things which I do and suffer, receive the proof of my sayings. For I have myself done something even more. For being King of the powers above, I was willing to become man, and I submitted to be despised, and despitefully entreated. And not even with these things was I satisfied, but even unto death did I come. Therefore," He saith,
"Even as the Son of Man came not to be ministered unto, but to minister, and to give His life a ransom for many." "For not even at this did I stop," saith He, "but even my life did I give a ransom; and for whom? For enemies. But thou if thou art abused, it is for thyself, but I for thee."
Be not then afraid, as though thine honor were plucked down. For how much soever thou humblest thyself, thou canst not descend so much as thy Lord. And yet His descent hath become the ascent of all, and hath made His own glory shine forth. For before He was made man, He was known amongst angels only; but after He was made man and was crucified, so far from lessening that glory, He acquired other besides, even that from the knowledge of the world.
Fear not then, as though thine honor were put down, if thou shouldest abase thyself, for in this way is thy glory more exalted, in this way it becomes greater. This is the door of the kingdom. Let us not then go the opposite way, neither let us war against ourselves. For if we desire to appear great, we shall not be great, but even the most dishonored of all.
Seest thou how everywhere He urges them by the opposite things, giving them what they desire? For in the preceding parts also we have shown this in many instances, and in the cases of the covetous, and of the vain-glorious, He did thus. For wherefore, He saith, dost thou give alms before men? That thou mayest enjoy glory? Thou must then not do so, and thou shalt surely enjoy it. Wherefore dost thou lay up treasures? That thou mayest be rich? Thou must then not lay up treasures, and thou shalt be rich. Even so here too, wherefore dost thou set thy heart on the first places? That thou mayest be before others? Choose then the last place, and then thou wilt enjoy the first. So that if it be thy will to become great, seek not to become great, and then thou wilt be great. For the other is to be little.
Seest thou how He drew them off from the disease, by showing them both from thence failing of their object, and from hence gaining, that they might flee the one, and follow after the other.
And of the Gentiles, too, He for this cause reminded them, that in this way again He might show the thing to be disgraceful and to be abhorred.
For the arrogant is of necessity base, and, on the contrary, the lowly-minded is high. For this is the height that is true and genuine, and exists not in name only, nor in manner of address. And that which is from without is of necessity and fear, but this is like to God's. Such a one, though he be admired by no one, continues high; even as again the other, though he be courted by all, is of all men the basest. And the one is an honor rendered of necessity, whence also it easily passes away; but the other is of principle, whence also it continues steadfast. Since for this we admire the saints also, that being greater than all, they humbled themselves more than all. Wherefore even to this day they continue to be high, and not even death hath brought down that height.
And if ye be minded, let us by reasonings also inquire into this very thing. Any one is said to be high, either when he is so by greatness of stature, or when he hath chanced to be set on a high place, and low in like manner, from the opposite things.
Let us see then who is like this, the boaster, or he that keeps within measure, that thou mayest perceive that nothing is higher than lowliness of mind, and nothing lower than boastfulness.
The boaster then desires to be greater than all, and affirms no one to be equal in worth with him; and how much soever honor he may obtain, he sets his heart on more and claims it, and accounts himself to have obtained none, and treats men with utter contempt, and yet seeks after the honor that comes from them; than which what can be more unreasonable? For this surely is like an enigma. By those, whom he holds in no esteem, he desires to be glorified.
Seest thou how he who desires to be exalted falls down and is set on the ground? For that he accounts all men to be nothing compared with himself, he himself declares, for this is boasting. Why then dost cast thyself upon him who is nothing? why dost thou seek honor of him? Why dost thou lead about with thee such great multitudes?
Seest thou one low, and set on a low place. Come then, let us inquire about the high man. This one knows what man is, and that man is a great thing, and that he himself is last of all, and therefore whatever honor he may enjoy, he reckons this great, so that this one is consistent with himself and is high, and shifts not his judgment; for whom he accounts great, the honors that come from them he esteems great also, though they should chance to be small, because he accounts those who bestow them to be great. But the boastful man accounts them that give the honors to be nothing, yet the honors bestowed by them he reckons to be great.
Again, the lowly man is seized by no passion, no anger can much trouble this man, no love of glory, no envy, no jealousy: and what can be higher than the soul that is delivered from these things? But the boastful man is held in subjection by all these things, like any worm crawling in the mire, for jealousy and envy and anger are forever troubling his soul.
Which then is high? He that is superior to his passions, or he that is their slave? He that trembles at them and is afraid of them, or he that is unsubdued, and never taken by them? Which kind of bird should we say flies higher? that which is higher than the hands and the arrows of the hunter, or that which does not even suffer the hunters to need an arrow, from his flying along the ground, and from not being able ever to elevate himself? Is not then the arrogant man like this? for indeed every net readily catches him as crawling on the ground.
But if thou wilt, even from that wicked demon prove thou this. For what can be baser than the devil, because he had exalted himself; what higher than the man who is willing to abase himself? For the former crawls on the ground under our heel (For, "ye tread," He saith, "upon serpents and scorpions"), but the latter is set with the angels on high.
But if thou desirest to learn this from the example of haughty men also, consider that barbarian king, that led so great an army, who knew not so much as the things that are manifest to all; as, for instance, that stone was stone, and the images, images; wherefore he was inferior even to these. But the godly and faithful are raised even above the sun; than whom what can be higher, who rise above even the vaults of heaven, and passing beyond angels, stand by the very throne of the king.
And that thou mayest learn in another way their vileness; who will be abased? He who has God for his ally, or he with whom God is at war? It is quite plain that it is he with whom He is at war. Hear then touching either of these what saith the Scripture. "God resisteth the proud, but giveth grace unto the humble."
Again, I will ask you another thing also. Which is higher? He who acts as a priest to God and offers sacrifice? or he who is somewhere far removed from confidence towards Him? And what manner of sacrifice doth the lowly man offer? one may say. Hear David saying, "The sacrifice of God is a contrite spirit; a contrite and humbled heart God will not despise."
Seest thou the purity of this man? Behold also the uncleanness of the other; for "every one that is proud in heart is unclean before God." Besides, the one hath God resting upon him, ("For unto whom will I look," saith He, "but to him that is meek and quiet, and trembleth at my words"), but the other crawls with the devil, for he that is lifted up with pride shall suffer the devil's punishment. Wherefore Paul also said, "Lest, being lifted up with pride, he should fall into the condemnation of the devil."
And the thing opposite to what he wishes, befalls him. For his wish is to be arrogant, that he may be honored; but the most contemned of all is this character. For these most of all are laughing stocks, foes and enemies to all men, the most easy to be subdued by their enemies, the men that easily fall into anger, the unclean before God.
What then can be worse than this, for this is the extremity of evils? And what is sweeter than the lowly, what more blessed, since they are longed after, and beloved of God? And the glory too that cometh of men, these do most of all enjoy, and all honor them as fathers, embrace them as brothers, receive them as their own members.
Let us then become lowly, that we may be high. For most utterly doth arrogance abase. This abased Pharaoh. For, "I know not," he saith, "the Lord," and he became inferior to flies and frogs, and the locusts, and after that with his very arms and horses was he drowned in the sea. In direct opposition to him, Abraham saith, "I am dust and ashes," and prevailed over countless barbarians, and having fallen into the midst of Egyptians, returned, bearing a trophy more glorious than the former, and, cleaving to this virtue, grew ever more high. Therefore he is celebrated everywhere, therefore he is crowned and proclaimed; but Pharaoh is both earth and ashes, and if there is anything else more vile than these. For nothing doth God so abhor as arrogance. For this object hath He done all things from the beginning, in order that He might root out this passion. Because of this are we become mortal, and are in sorrows, and wailings. Because of this are we in toil, and sweat, and in labor continual, and mingled with affliction. For indeed out of arrogance did the first man sin, looking for an equality with God. Therefore, not even what things he had, did he continue to possess, but lost even these.
For arrogance is like this, so far from adding to us any improvement of our life, it subtracts even what we have; as, on the contrary, humility, so far from subtracting from what we have, adds to us also what we have not.
This virtue then let us emulate, this let us pursue, that we may both enjoy present honor, and attain unto the glory to come, by the grace and love towards man of our Lord Jesus Christ, with whom be unto the Father glory and might, together with the Holy Ghost, now and always, and world without end. Amen.