Commentary
In a traditional Roman burial the friends would gather at the grave or pyre. They would each take dirt and three times would throw it on the body saying "VALE, VALE, VALE (meaning farewell). Then upon leaving the burial ground, they would turn and walk away as they said the name of the deceased three times.
Early Christians could not be buried with the Roman citizens because their religion wasn't recognized as legitimate. They buried their dead in the catacombs that were underground. They would place the bodies in burial crypts.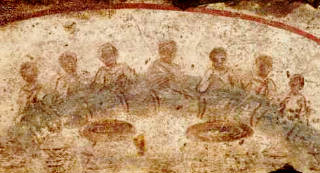 Christian agape scene in the catacombs
The catacombs were also used as a place of meeting and worship including the Eucharist.
Centurions deployed in combat areas may have been buried in funeral pyres for sanitation and ancient custom. At a Roman Fort at Brougham, 20 miles south of the western end of Hadrian's Wall archaeologists found the cremated remains of two highly honored Cavalry officers of the Roman Legion. By the remains each was given the highest honors at death which was between the date of 220 A.D. and 300 A.D. The Funeral pyres may have been a high as three tiers. The remains show that both had been burned on their pyres in their full armor with all fittings and scabbards. Both were generously provided with a joint of meat on a pottery dish and a pottery jug with an engraving good-luck motto but as well silver bowls and ivory objects. All this marks the officers as belonging to one of the highest ranking members of the community. The combination of the horses, military equipment and expensive pyre and grave goods naturally suggests Roman Cavalry officers. [Reference: Archaeology magazine May/June edition 2005; article Amazons in the U.K. ]
See more here here.
Cremation ceased to be the primary means of burial with the advent of Christianity as the predominant religion in Rome. They began to use the sarcophagi (coffins), made of various materials such as: stone, marble, lead," etc. The Christian was often buried supline with his feet to the west so he could arise at the sound of Garbriel's horn facing to the East. Facing East - just as he worshipped in the Eucharist - ready for the Coming of Jesus and the Ressurection. Marantha - Come Lord Jesus.