O ALMIGHTY and everlasting God, who didst give to thine Apostle Bartholomew grace truly to believe and to preach thy Word; Grant, we beseech thee, unto thy Church, to love that Word which he believed, and both to preach and receive the same; through Jesus Christ our Lord. Amen.
The Anglican Breviary says this is the same Apostle as Nathaniel, whom is associated with Philip in the Gospel of John of whom Jesus said, "Behold, and Isrealite indeed, in whom is no guile" Ancient tradition has it that Bartholomew "Son of Tolmai" was flayed alive at Albanopolis in Armenia. Eusebius reported that when Pantaenus of Alexandria visited India between 150 and 200 he found there Matthew's Gospel that had been left by Bartholomew. His relics were translated to Rome on August 24th by Emporer Otho III.

Acts v. 12 & St. Luke xxii. 24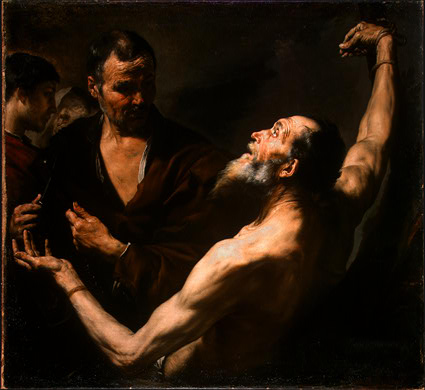 he that is greatest among you, let him be as the younger
---
Acts v. 12

BY the hands of the apostles were many signs and wonders wrought among the people; (and they were all with one accord in Solomon's porch. And of the rest durst no man join himself to them: but the people magnified them. And believers were the more added to the Lord, multitudes both of men and women.) Insomuch that they brought forth the sick into the streets, and laid them on beds and couches, that at the least the shadow of Peter passing by might overshadow some of them. There came also a multitude out of the cities round about unto Jerusalem, bringing sick folks, and them which were vexed with unclean spirits: and they were healed every one.

St. Luke xxii. 24

AND there was also a strife among them, which of them should be accounted the greatest. And he said unto them, The kings of the Gentiles exercise lordship over them; and they that exercise authority upon them are called benefactors. But ye shall not be so: but he that is greatest among you, let him be as the younger; and he that is chief, as he that doth serve. For whether is greater, he that sitteth at meat, or he that serveth? is not he that sitteth at meat? but I am among you as he that serveth. Ye are they which have continued with me in my temptations. And I appoint unto you a kingdom, as my Father hath appointed unto me; that ye may eat and drink at my table in my kingdom, and sit on thrones judging the twelve tribes of Israel.

Scripture from 1928 Book of Common Prayer



---
Other homilies:


Chrysostom on Acts | Epistle of Gregory

Saint Ambrose
Sermon 95 on Luke xxii. 24


THE disciples of the Lord Jesus Christ, seeing that they were still living under the tutelage of the Law, had yet to be purged; they had yet to be nurtured; they had yet to be directed; they had yet to be led beyond the Law; albeit the Law itself taught them not to give way to mere natural affections. I desire to cast no opprobrium upon those holy rams that were the leaders of the flocks. Therefore, meaning no offence, I tell you (for I must tell the truth) only what the Gospel hath to say. The Gospel saith that they strove amongst themselves as to which should be accounted the greatest. Thus, while the Lord was yet with them upon earth, they were agitated by a dissension concerning pre-eminence.

WHENCE was such a dissension but from the old leaven from which Christ would purge them? Whence but from the law in the members, warring against the law of the mind? They sought after preeminence! Yea, they greatly longed for it, and gave much thought as to who should be greatest. Therefore, Jesus shameth their pride by a little child. Yea, he calleth the age of humility to tame those grown big in the swelling of natural desires. Likewise when, as we read, the Seventy returned with joy, saying: Lord, even the devils are subject unto us through thy Name: he said unto them: Rejoice not that the spirits are subject unto you. And for good reason he said this, for rather (as he said) they should rejoice that their names were written in heaven. It was for a nothing they rejoiced, in comparison with what God had promised them.

WHENCE the Lord, as a good teacher, desiring to quiet their fears, and to build up in them a firm foundation, said unto them: In this rejoice not, that the spirits are subject unto you. And why? Because many will say to me in that day: Behold, in thy Name we have cast out devils, and done many wonderful works. And then will I profess unto them: I never knew you. Therefore in such wonderful works, rejoice not; but rather rejoice that your names are written in heaven. As yet ye cannot be there, but even now ye already have your names recorded in the register of citizenship there. Wherefore, rejoice. Again he said unto them: Hitherto ye have asked nothing in my Name. That is, what ye have asked, if it be compared with what I am willing to give you, is nothing. So then, by the word Nothing is not meant, in the literal sense, nothing at all; but it is so little, in comparison with the greatness of God's rewards, that it is as nothing.


---

HOME