Historical Notes

1 The Chapel of the Centurion was built based on a pattern from Richard Upjohn's 1852 book, Upjohn's Rural Architecture: Designs, Working Drawings and Specifications for a Wooden Church, and Other Rural Structures. Upjohn did not specifically design the Chapel of the Centurion for Fort Monroe. Hampton University has a copy of Upjohn's book in its library, although it is currently checked out, because someone is preparing a National Register nomination for Saint Peter's Episcopal Church (now known as Saint James Holiness Church of Christ Disciples), in Norfolk, another Upjohn pattern book church. [Pam Schenian, email, 7/2/08, Virginia Department of Historic Resources.]

2 Regarding the 1968 discovery of fresh water, which this story was always told to me as proof of the existence of an artisian well (which makes no sense geologically), when they were installing the geothermal system for the quarters closest to the Chapel of the Centurion, the backhoe uncovered a brick wall. Then the backhoe breached the wall and the trench rapidly filled with water. Checking historic maps, I determined that the wall was part of the 20,000 gallon cistern for the pre-1880s fire station, which had been behind the chapel. It fills up with rainwater, and apparently got breached during the 1968 renovations, as well. [Pam Schenian, email, 7/2/08, Virginia Department of Historic Resources.]


---
Obituaries and Personal Histories

Chaplain Charles Trinkle
---
Obituaries and Personal Histories

Chaplain Charles Trinkle
Chaplain (Col.) Charles Leonard Trinkle, age 86, of Johnson City died on Tuesday, December 11, 2007, following a lengthy illness. Born on July 23, 1921, in Scottsburg, IN, he was the son of the late O.A. and Minnie Trinkle. He is survived by a sister, Harriet Baker, of Indianapolis, IN; sons: David (Audrey) Trinkle, of Grafton, VA, Stephen (Dee) Trinkle, of Jonesborough, Philip Trinkle, of Ann Arbor, MI; daughters: Becky (Hal) Atwell, of State College, PA, Debbie (Dallas) Easler, of Chapin, SC, and Marty (Ron) Cormier, of Munroe Falls, OH. Memorials - Cincinnati Christian University for the Charles L. Trinkle Memorial Scholarship. Condolences -www.tetrickfuneralhome.com or faxed to (423) 610-7177. Tetrick Funeral Services, 3001 Peoples St., Johnson City, TN 37604. (423) 610-7171.
Harold and Tribune, Jonestown, Virginia.

Colonel Julian McAllister
COL. McALLISTER DEAD. January 4, 1887, Wednesday: Col. Julian McAllister, Senior Colonel of the Oranance Corps of the United States Army, died last evening on Governor's Island. Until a fortnight ago Col. McAllister was apparently in good health. His disease was kidney trouble. He leaves a wife and children, who are now on the island. His brother, Elliott McAllister, is a resident of this city.
See the rest of obituary in original printing, New York Times

FM Pamphlet 165-1 18 Sep 85
An historical Army Pamphlet on the Chapel

Wedding of Mary Brewerton Ricketts and William Montrose Graham

Ms. Aroostine McDowell sent to the Chapel "old pictures about my Great Great Grandmother Aroostine Mary Brewerton Ricketts Graham, including an 1860 picture of her from her Fort Monroe wedding as well as an 1897 picture of her as well as one of her husband General William Montrose Graham. I have also attached the wedding certificate from her 1860 wedding to General Graham at the Fort Monroe Chapel which is a page in an ancient Bible of hers which I inherited." [Email of 1 Sep 10] Note the officiant was Chaplain Chevers.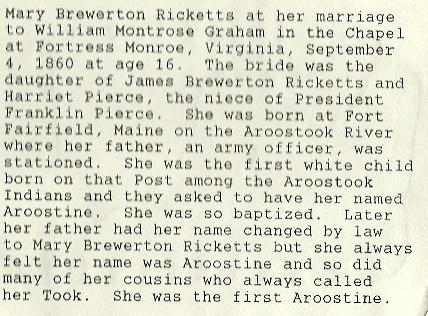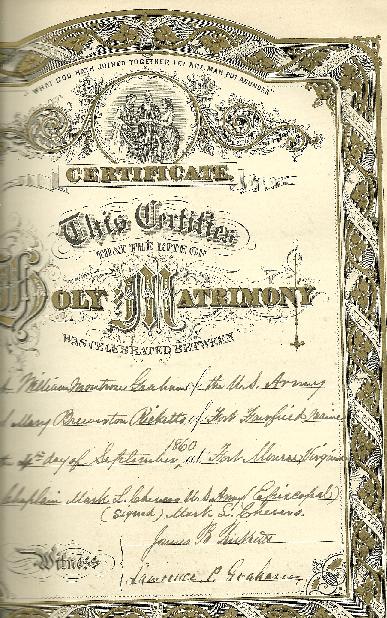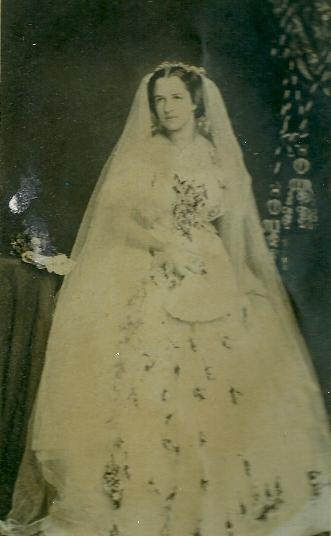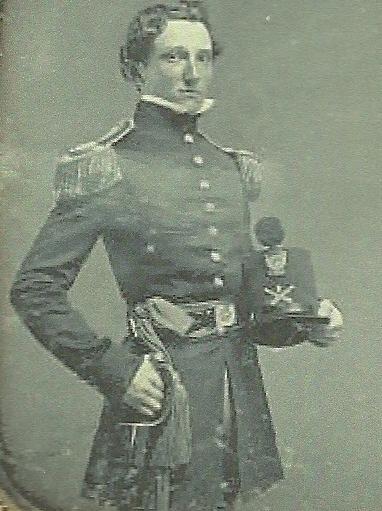 Wikepedia Bio



News articles in the New York Times from 1865

"FORTRESS MONROE, Thursday, Sept. 21.
MATILDA BURNETT, colored servant of Dr. CHEEVER, chaplain of Fortress Monroe, has been arrested for robbing the house of $125 in money and other articles. The property has been recovered.
JEFFERSON DAVIS received an invoice of liquors from Richmond to-day, and appreciates it very highly

---
Home * Sanctuary * Nave One * Nave Two * Narthex * Accessories * Furnishings * Chaplains *
Historical Notes * Editor's Comments