Accessories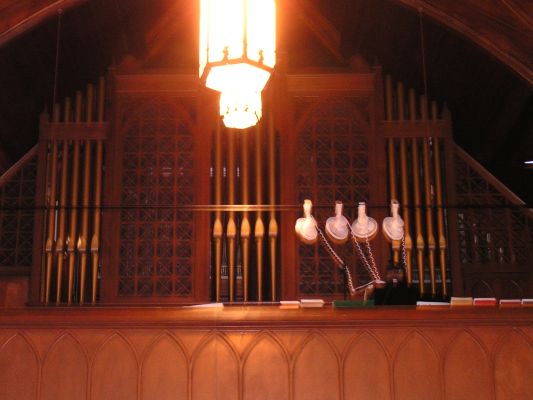 Chevers Organ
Photo by Ch. David Scharff 2006
The Chevers Memorial Organ
1983
The rebuilt Moeller organ - Series 80, Opus R-140 was dedicated on 4 February 1983, Cornelius the Centurion Day, as a memorial to the Reverend Mark Lindsay Chevers, the first Post Chaplain at Fort Monroe. The organ was designed and built by M. P. Moller Pipe Organ Company, Inc. It is equally expressive for quiet meditation and soaring exaltation. Placed in the balcony of the chapel, the organ has an advantageous position from which to speak. The electro-pneumatic organ consists of two manuals and pedal comprising three divisions, namely Great, Swell (under expression) and Pedal. It contains 13 ranks (sets of pipes) for a total of 845 individual pipes. The pipes are constructed of. metal, an alloy of tin and lead, and of wood. The exposed casework and organ console are made of oak. The facade pipes are purely decorative.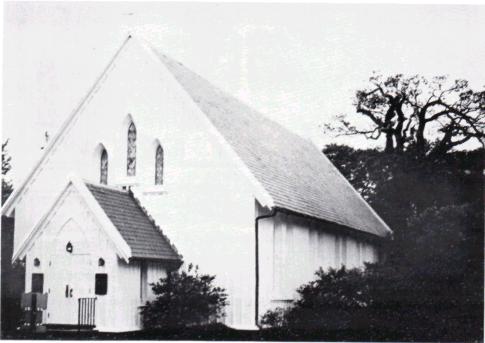 FOUR DECADES
1829 The man who designed the chapel arrived in America - Richard Upjohn. Robert E. Lee graduated number two in his West Point Class. At Fort Monroe an old outhouse was torn down- it had stood where the present steps to the sacristy are located.
1839 Emory Upton was born in Genesee County (near Buffalo) New York.
During the 1840's Julian McAllister and John Tidball graduated from West Point. Daniel Butterfield (of Buffalo, New York) graduated from Utica Academy, New York. Louis Comfort Tiffany was born.
1850's Three men from Buffalo, merged their companies to form American Express Company. The men were John Butterfield, father of Daniel Butterfield; Henry Wells, who later founded a bank with one of the partners and William George Fargo, whose daughter Helen married the Canadian, Herbert Squires. Woodrow Wilson was born in 1856 at Staunton, Virginia, later as President he often worshipped in the chapel. J. & R. Lamb Stained Glass Studio was founded in 1857. John Tidball's Artillery supported Robert E. Lee's troops in the raid at Harper's Ferry to capture John Brown. The artillery schools had opened at Ft. Monroe in 1858.
1860's Daniel Butterfield led the first Union forces into Virginia. Eugene Jacobs was a member of the New York Heavy Artillery posted at Fort Monroe to form part of the Army of the Potomac. Young Louis Tiffany was a member of the 5th New York Regiment known as Duryee's Zouaves. The 5th engaged enemy forces at nearby Big Bethel (present source of water for the post). John Tidball's artillery supported Daniel Butterfield's troops in the battle of Richmond.
From these decades in this chapel the children of two of the founders of an Express Company have windows almost opposite one another. A young Eugene Jacobs is depicted in a window commemorating the Chapel Centennial-- he had served with an artillery unit supporting Daniel Butterfield's 7th Regiment of New York. Louis Tiffany first became known for his design and glass used in decorating the 7th Regimental Armory in New York City. J. & R. Lamb Studios has crafted four of the windows in the chapel, Tiffany did three of the windows.
In 1968 when the chapel was renovated- fresh water was found- thirty feet from the outhouse destroyed in 1829. [HN2]
THE FLAGS

(starting on the Eagle side, described front to rear)

Fifty Star - Current National Colors 56th AAA Missile Battalion - Given in 1958

Forty-six Star - Issued in 1907 when Oklahoma was admitted to the Union.

Coast Defense of Chesapeake Bay - Issued in 1920, placed in the chapel in 1925.

Second Coast Artillery - Issued upon the units reorganization in Panama in 1923. Placed in the chapel when the unit returned to Fort Monroe in the 1930's.

Forty-five Star - Issued in 1896 - carried by the Seventh Artillery. Artillery School - Issued prior to separation of artillery in 1907 into coastal and field branches.

Christian Flag - Standard Chapel Flag

Second Regiment of the Artillery - Colors used in the Civil War by the unit. Thirty-four Star - Carried by the Second Artillery during the Civil War.

Continental Army Command (Now Forces Command at Ft. Monroe February 1955 to 30 June 1973.

Forty-nine Stars - Authorized from July 1959 to July 1960. Training and Doctrine Command - Fashioned after the original school's training

Command flag of the 1920's.

Second Coast Artillery Regiment - For many years the garrison regiment at Ft. Monroe.

Forty-eight Star - Last used in 1959. Sixth Artillery Regiment - Following the Spanish-American War, the unit was redesignated Coastal Artillery.

Sixth Provisional Coast Artillery Regiment - Used on the Mexican border in 1911.

Forty-four Star - Used by the third Artillery prior to 1896. Seventh Coast Artillery Regiment - Prior to and during World War II this regiment was garrisoned at Ft. Hancock, New York.

Forty-eight Star - Last used in 1959.

Christian Church Flag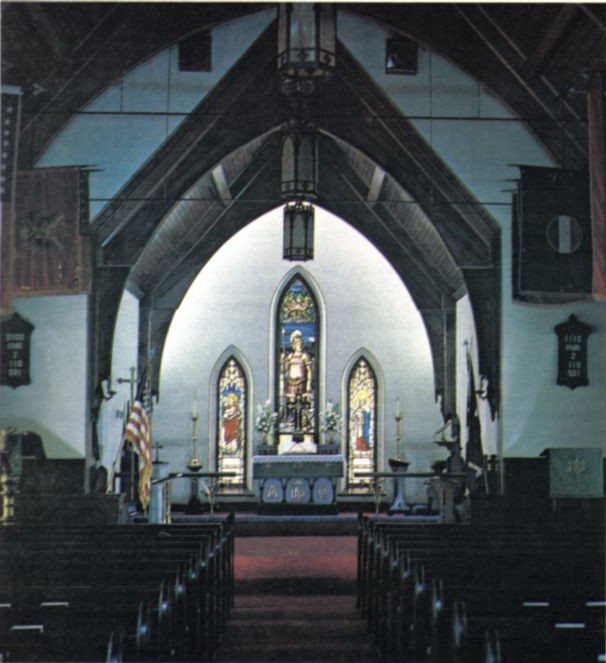 ---
Home * Sanctuary * Nave One * Nave Two * Narthex * Accessories * Furnishings * Chaplains *
Historical Notes * Editor's Comments